The History of French Broad EMC
In Madison County, a vote was taken at the courthouse in Marshall, to form a committee regarding a rural electric company, thus resulting in the formation of French Broad Electric Membership Corporation, which was formed in 1939. A Board of Directors was appointed to set up the organization and this original Board met in March, 1940, and adopted by-laws and a charter for incorporation under the laws of the State of North Carolina.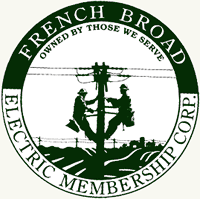 In July, 1940, an engineering firm was retained to map a proposed system and the 1st loan application was made to REA for construction of 125 miles of line to serve 600 members in Madison, Yancey and Buncombe Counties.

In February, 1941, a line was energized in the Little Pine section of Madison County and the FBEMC began giving service for the first time. The Board authorized the co-op to extend lines to Mitchell and Avery Counties, as well as to Unicoi County, TN. But it became apparent that Mitchell and Avery Counties could not be economically served unless the co-op could acquire the lines of the Northwest Carolina Utilities, a private power company serving the towns of the areas that the co-op proposed to serve.

A committee was appointed to investigate the extent and value of Northwest lines. In March 1942, the committee reported that the Northwest properties could be purchased for $340,000 and that it would take $10,000 to repair that system. An application was made to the REA for a loan of $350,000 for this purchase and renovations. In December 1942, FBEMC purchased the properties of the Northwest Carolina Utilities. This action added additional members as well as two generating plants to the project.

In 1944, a new hydro plant was installed in Marshall to replace the old and worn out unit acquired from Northwest Utilities.

FBEMC became incorporated in 1949. Up until now, power lines followed roads and folks that lived along the roads could be serviced with electricity. During the late 1940's through the 1960's, the idea of 'area coverage' was accomplished. Area coverage permitted electric utilities to spread out and build lines to cover an area, instead of following the roads, thus allowing service to more rural customers.

In the early 1960's, most co-ops realized that competing for territory was not productive for the co-op or for the investor owned utility (IOU). As a result of this constant battle, a law, the Territorial Act, was passed in 1965. This negotiated law between the states, co-ops and IOU's gave territorial assignments to each utility company and allowed FBEMC and CP&L (now, Progress Energy) to serve customers more productively.

French Broad EMC has grown into a modern-day cooperative, with 21 substations serving approximately 36,000 members in Madison County, Buncombe County, Yancey County and Mitchell County in North Carolina, as well as members in Unicoi County and Cocke County in Tennessee.

FBEMC now has modern system controls along with a data acquisition system, linked by fiber optic cable and wireless communication, to facilitate accurate and rapid functioning of our electrical distribution and transmission plant.